The world of IT would be a horribly boring place without the ever evolving buzzword bingo around different trends and emerging technologies. The term BYOD (Bring Your Own Device) topped the chart's on Gartner's Hype Cycle for 2012, then disappeared from the next one, but it's still surely riding high on the hype wave, now partially blurred with all the different mobility hype terminology.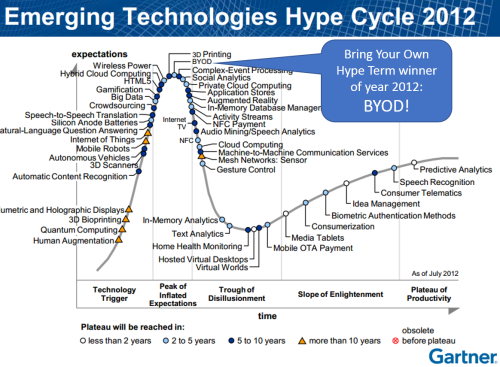 A friend of mine wrote a great post on the numerous challenges that BYOD will face when taken out into the real world and meeting the security requirements of corporations, ISO certifications and all the other boring objects that are both less shiny and much thicker than the latest iPad Air. Inspired by this, also decided to write down a few thoughts on all things BYOx.
I think the BYOD phenomenon has been exaggerated and the scenarios which some vendors are hyping up are very unlikely to become a widely adopted practice. At the end of the day it probably hasn't been such a major shift towards the need for "bringing your own" rather than just a backlash against the bad practices forced upon corporate slaves by the ever so evil IT departments (and the boards who cut their budgets). If you make people work with XP machines that take 15 minutes to boot and don't provide them any mobile services for basic communication outside a crappy VPN connection, then surprise, surprise, these folks will be interested in any alternative that shows them a potential way out of such IT hell.
I see BYOD as a concept that falls under the more important Shadow IT umbrella, instead of it being a major trend on its own. BYOD might as well be labelled BYOM or BYOI (Bring Your Own Mac/iPhone), since that's what it's really been more about. People dream about the possibility of working in a same kind of care free environment that their devices back home make up, while ignoring the fact that a single user computing environment is by definition always going to bee far more simple than any system that has been designed to meet the basic requirements of performing work within a group of people belonging under the jurisdiction of the employer organization. Switching your PC to a Mac will not solve any of these problems, more likely it will just deliver a more siloed environment for information work, as the tools lack the characteristics which would support the work of real life business teams.
The real beef in the Shadow IT movement has always been in its ability to support ad-hoc collaboration between parties that:
May be located behind several different firewalls
Don't share any common IT systems
Don't have a clear decision maker.
This way the can be seen as something that can help to expand the area where information systems support the day-to-day information work, since Corporate IT by definition isn't well suited as a service provider for such a landscape, whereas for Shadow IT this is the natural inhabitant. Cloud apps can fill the gaps in existing and emerging workflows of teams at a speed that cannot be matched by any other approach, so simply banning them would be the equivalent of cutting away employee access to the public Internet and instead forcing people to perform their information searches in the corporate library of physical books. Then again, expecting the cloud apps to come and replace existing enterprise software just like that is an equally absurd idea. They should be seen as a quick way to experiment with a new idea, knowing that the same time next year the service will probably no longer be used.
Hardware matters, but software rules. Time spent on arguing whether the employees should be doing their work on a PC, iPad or Galaxy S4 will not yield any long term ROI, the way I see it. The BYOD discussion should in my opinion be BYOA (Bring Your Own Apps): the quest for finding a way to live in the middle of an ever growing and evolving app cloud that surrounds us at work and at home – and especially on the road between the two.
Looking at it from the employee perspective, the phenomenon is actually BYOW – Bring Your Own Work onto your personally chosen platforms of IT hardware and services. Now that the ownership of production equipment no longer is solely the right of corporations as there's a factory in every pocket and a tablet on every desk, the traditional 1:N relationship between employer:employee will become N:N for a growing share of information workers. Which, from the Corporate IT perspective, is again a much more significant phenomenon to deal with than the discussion on which OS's and devices should be supported.